What to do if you want to get rid of your boat and are confused about your options? Learn how to dispose of an old boat below.
Being that we are a boat shop that specializes in old nla boat parts, we get a lot of calls asking if we buy old boats and vintage boat motors. There are three circumstances in which we will take your old motor:
-At times we will purchase an old outboard motor to resell.
-We definitely take outboards and sterndrives in trade on a new Mercury Outboard or Mercruiser Sterndrive.
-Occasionally we buy a boat motor to part out the engine and resell good used parts. Parting out motors is costly as all parts need to be uninstalled, inspected, cleaned, added to inventory and stocked in our parts room but it is of great service to those wanting to keep their old motor running.
Bottom line, you can certainly call or email us if you are getting rid of your old boat motors. We will do our best to help you out. In the case where we can not use your motor, there are several options available:
-Advertise and sell your boat/motor on Craigslist for free
-Run an ad with other local resale boards such as facebook Marketplace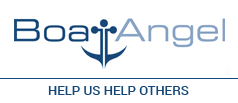 -Donate your boat to Boatangel.com and take the resale value as a tax deduction.
Boatangel offers a unique service in that they will arrange to pick up your boat, make necessary improvements to get it ready for resale and post on Ebay for resale the proceeds of which go to the charity. They then send you a tax receipt showing the sale price for your records.
Regardless of which of the three options you choose they all give you an opportunity to recycle your boat and keep it out of the landfill. Unfortunately there are times in which that is your only option. If you are not able to re-sell or donate your boat or motor, check the internet for your local landfill listing. They will post hours and costs to dump your boat.